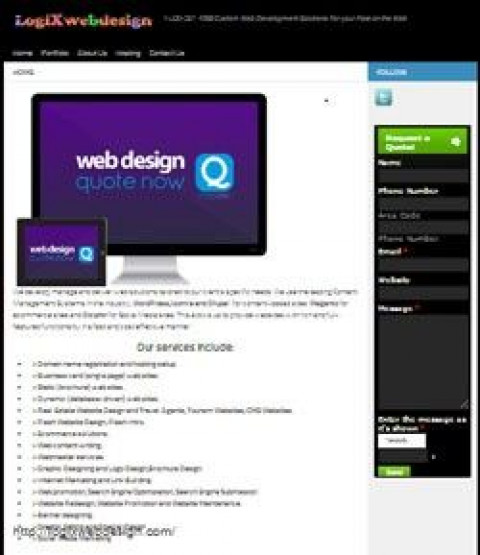 LogiXwebdesign is focused on building creative website and design solutions using a large variety of tools including PHP, Java, Flash, MySQL and so much more. We can create your website using some of the most popular Content Management Systems such as Drupal, Joomla and Wordpress. We use Dolphin software for vibrant custom social networks and online communities. We can even migrate your website to a new server.
We can set you up with the latest E-Commerce using Magento.
We have Solutions!
Let us take your website needs to the next level and let us know of your unique ideas.
We have a plan just for you.
Specialties
Affordable
Analytics
Banners
Basic Web Design
Blog Writing & Management
Business and Postcard Card Design
Cascading Style Sheet (CSS) Design
Clean Design
Clean Designs
Content Management Systems (CMS) Expertise
Content Writing
Database Integration
Dolphin:vibrant Custom Social Networks And Online Communities.
Drupal CMS Expertise
E-commerce Solutions
Email Marketing
Flash Animation
Full-Service Website Management
Google Adwords Campaign Management
Graphic Design
HTML 5
Identity & Brand Strategy
Javascript & DHTML
Joomla CMS Expertise
JQuery
Landing Page Design
Link Building
Logo Design
Magento
Market Research
Merchant Account Integration
Mobile Sites
Mobile Website Design
Mobile Websites
Monthly Maintenance
MySQL
Online Marketing Strategy and Implementation
PayPal Shopping Cart Integration
Photography Services
Photoshop
PHP Development
Professional Illustration
Real Estate
Responsive Web Design
Search Engine Marketing (SEM)
Search Engine Optimization (SEO) Consulting
Shopping Carts
Site Maintenance
Slideshows
Small Business
Social Media Marketing Strategy & Implementation
Sound & Audio Production (Editing, Streaming)
Templates
User Interface (UX) Design
Video Production (Editing, Streaming) Services
Web 2.0 Development
Web Consulting
Web Redesign
Website Hosting Services
Website Maintenance
Website Redesign
Wordpress Expertise
XHTML