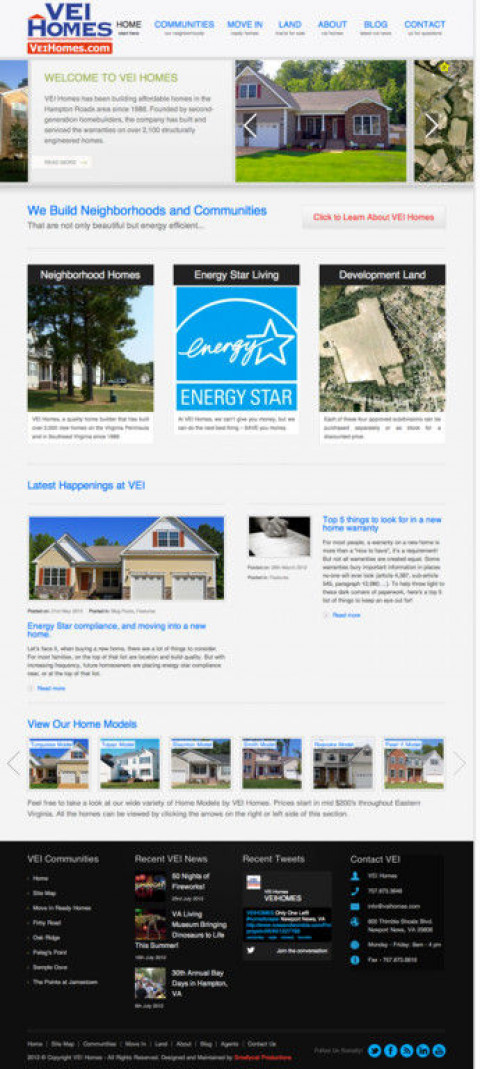 Our website designers, graphic artists, video producers, marketing and SEO's will help you design and build a website with compelling content that best represents and reflects who you are and what you do. Your website and its design needs to invite your visitors to explore your website, get to know you and have trust in doing business with your company.
We pride ourselves in the high quality standards we put in all our video production services. A video presentation on your website can make the difference in the viewer seeing and hearing everything that is important about you and your company and it is a great way to introduce yourself to your website visitors.
Our offices are located in Williamsburg VA and Richmond VA also serving Midlothian, Chesterfield, Newport News, Hampton, Yorktown, VA and the US.
Smellycat Productions is a leader in website design, video production, graphics design, photography, social media and SEO.
We take pride in our work!
Specialties
3D Modeling & Animation
Aerial Photography
Aerial Videography
Affordable
AJAX
Analytics
Animation
Application Development
Article Marketing
Asp
Banners
Basic Web Design
Blog Writing & Management
Brand-focused Design
Branding
Brochure Design
Business
Business and Postcard Card Design
Business Consulting
Cascading Style Sheet (CSS) Design
Clean
Clean Design
Clean Designs
Cold Fusion
ColdFusion
Content Creation
Content Development
Content Management
Content Management Systems (CMS) Expertise
Content Strategy
Content Writing
Copy Writing
Copyediting
Copywriting
Corporate Collateral
Creative Services
Custom Themes
Custom Web Applications
Database Design
Database Developmenand A Full Range Of Programming Serv
Database Development
Database Integration
Development
Drupal CMS Expertise
E-commerce Solutions
Editing
Email Marketing
Facebook
Facebook Fan Pages
Facebook Pages
Fast Service
Fast Turnaround Web Design
Flash Animation
Flyers
Full-Service Website Management
Google Analytics
Graphic Design
HTML
HTML 5
HTML5
Identity & Brand Strategy
Inbound Marketing
Integrations
Interactive Media
IPad
Javascript & DHTML
Joomla CMS Expertise
JQuery
Keyword Research
Landing Page Design
Link Building
LinkedIn
Linux
Local Search
Local Search Marketing
Local Search Optimization
Localization
Logo Design
Maintenance
Marketing And Advertising Copy Writing
Merchant Account Integration
Mobile Site Design
Mobile Sites
Mobile Web Design
Mobile Web Developer
Mobile Website Design
Mobile Websites
Monthly Maintenance
Motion Graphics
MySQL
Newsletters
Online Marketing Strategy and Implementation
Online Product Catalogs
Online Reputation Management
Online Training
Open Source
Package Design
PayPal Shopping Cart Integration
Personal Service
Photography Services
Photoshop
PHP Development
Podcasts
Posters
Press Release
Print Advertising
Print Design
Professional Illustration
Project Management
Public Relations (PR) Services
QR Code Integration
Real Estate
Reputation Management
Responsive Design
Responsive Web Design
Search Engine Marketing (SEM)
Search Engine Optimization
Search Engine Optimization (SEO) Consulting
Search Engine Optimization. Social Media Management
SEO
Shopping Carts
Site Maintenance
Slideshows
Small Business
Social Media Marketing Strategy & Implementation
Sound & Audio Production (Editing, Streaming)
SQL
Subscription And Membership Websites
Templates
Training
Twitter
Upgrade And Redesign Websites
User Interface (UX) Design
Video Marketing
Video Production (Editing, Streaming) Services
Web 2.0 Development
Web Application Development
Web Consulting
Web Content Maintenance
Web Design
Web Design And Development
Web Designer
Web Designers
Web Redesign
Web Site Maintenance
Website Audit
Website Conversions
Website Maintenance
Website Redesign
Wordpress Expertise
WordPress Themes
XHTML
XML
Youtube