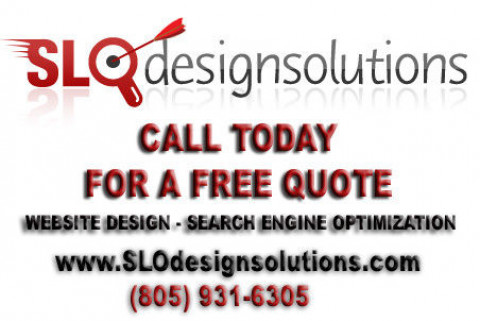 SLO Design Solutions is Located in San Luis Obispo, Ca. We specialize in designing and maintaining websites, internet marketing, Search Engine Optimization, and anything and everything that can be done to establish and increase your online presence. We have a proven track record of customer satisfaction and increased sales and conversions. We are a local company, that understands the importance of an online presence to your business.
SLO Design Solutions is different than our competition in that we take the time to understand your business and how best to utilize the internet to increase sales and maintain and improve customer loyalty; and that each company requires a different approach. We custom tailor each project to your individual company's needs, getting you exactly what you need and nothing more. We believe you should only pay for what you need and that by providing only the services you need we are able to achieve your goals at often less than half the prices of our competitors.
We have a unique blend of employees from a wide range of fields. We have been designing web pages for over 10 years and know what works. SLO Design Solutions maintains an excellent training and education program for all employees to stay on the cutting edge of Web Design and online marketing.
Specialties
Blog Writing & Management
Brochure Design
Business and Postcard Card Design
Cascading Style Sheet (CSS) Design
Content Management Systems (CMS) Expertise
E-commerce Solutions
Email Provider
Flyers
Full-Service Website Management
Google Adwords Campaign Management
Graphic Design
Javascript & DHTML
Logo Design
Merchant Account Integration
Monthly Maintenance
MySQL
Online Marketing Strategy and Implementation
PayPal Shopping Cart Integration
Photography Services
PHP Development
Posters
Print Advertising
Print Design
Professional Illustration
Search Engine Marketing (SEM)
Search Engine Optimization (SEO) Consulting
Slideshows
Small Business
Social Media Marketing Strategy & Implementation
Templates
User Interface (UX) Design
Video Production (Editing, Streaming) Services
Website Hosting Services
Wordpress Expertise
XHTML