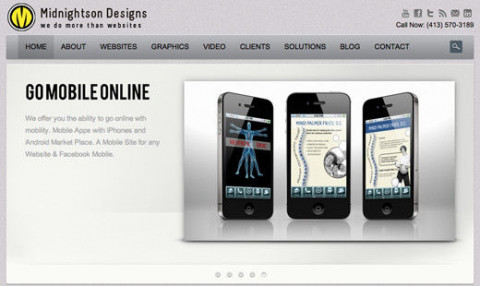 At Midnightson Designs we help/educate small – medium business and individuals to brand themselves online and offline with fun and profit. We like to have our clients succeed.
Midnightson Designs, a Digital Media Agency located in Massachusetts, was founded in 2010 by Carey Baker, a graduate of Pratt Institute, brings two decades of experience in Industrial and Graphic design.
We work with traditional tools and new technology to create unique, custom, and simple solutions for small to medium size businesses. The technology we create includes Websites, Mobile Apps, eBooks, Videos, and Graphics.
Working with partner agencies and programmers, we help craft search-optimized websites, social media design work, brand identities, blogs, and print advertising. Some clients choose to integrate across all formats. We are happy to accommodate your current needs, whatever they are. And we will be here when you are ready to implement your next phase.
We like working with new start ups, established companies, sole proprietors, and freelancers. Our capabilities also make us a perfect fit for individuals who have an idea or product that they would like to get online with visual appeal, a high search ranking, and sales capacity
Our primary tool for website creation is WordPress, which gives us the ability to design beautiful sites ranging from basic to wonderfully complex. The content management features of WordPress are so simple to use that most business owners, even with no web design experience, can update their own sites or have an employee do it. We also specialize in niche sites for individuals that have an idea or product that they would like to get online and have the site rank high using keywords and page rank formulas.
We know that our success is closely linked to our client's success. Our interest is a relationship that will last as long – and go as far – as you want it to.
Check out my site often for free stuff, blog entries and twitter posts.
Specialties
3D Modeling & Animation
Blog Writing & Management
Brochure Design
Business and Postcard Card Design
Cascading Style Sheet (CSS) Design
Content Management Systems (CMS) Expertise
E-commerce Solutions
Facebook Business Pages
Flyers
Full-Service Website Management
Google Adwords Campaign Management
Graphic Design
Identity & Brand Strategy
Logo Design
Mobile Apps
Mobile Website
Monthly Maintenance
Online Marketing Strategy and Implementation
PayPal Shopping Cart Integration
Photography Services
PHP Development
Posters
Print Advertising
Print Design
Search Engine Optimization (SEO) Consulting
Slideshows
Small Business
Social Media Marketing Strategy & Implementation
User Interface (UX) Design
Video Production (Editing, Streaming) Services
Wordpress Expertise
XHTML