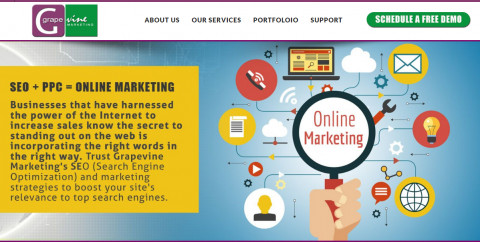 Grapevine Marketing - is the web and development branch behind a dedicated staff of web developers. Collectively, we design sites of every scale and budget, from small brochure sites, to larger corporate, retail and e-commerce sites. Using our expertise in CMS (Content Management Software), Graphic & Media Design, SEO (Search Engine Optimization), PPC (Pay-Per-Click) & SMM (Social Media Marketing) we have been designing, developing, marketing and providing REAL support to hundreds of clients who now leverage their websites to drive quantifiable/measurable results to their business.
Never underestimate the importance of the perfectly designed website. With visitors usually making a judgment within the first few seconds of seeing your site, we place great emphasis on not only making your site Search Engine Friendly but also visually appealing to the human eye.
Where a website might have been a luxury in previous years; it is now as crucial and fundamentally necessary as a phone number, an address or for some even as imperative as a business card or a door in a store front.
CALL US NOW FOR A FREE SCREEN SHARING CONSULTATION
OFFICE: (Mon-Fri) | CELL: (Sat-Sun)
Ask For Mike, Bernard or Kathy
www.GrapevineMarketing.org
Specialties
AJAX
Animation
Blog Writing & Management
Business and Postcard Card Design
Cascading Style Sheet (CSS) Design
Content Management Systems (CMS) Expertise
E-commerce Solutions
Flyers
Full-Service Website Management
Google Adwords Campaign Management
Graphic Design
Identity & Brand Strategy
Javascript & DHTML
Joomla CMS Expertise
Joomla Web Development
JQuery
Logo Design
Market Research
Merchant Account Integration
Monthly Maintenance
MySQL
Online Marketing Strategy and Implementation
PayPal Shopping Cart Integration
PHP Development
Posters
Ppc (Pay-Per-Click) Marketing
PPC/CPC Campaigns
Print Advertising
Print Design
Professional Illustration
Search Engine Marketing (SEM)
Search Engine Optimization (SEO) Consulting
Seo (Search Engine Optimization)
Slideshows
Small Business
Smm (Social Media Marketing)
Social Media Marketing Strategy & Implementation
Templates
User Interface (UX) Design
Web 2.0 Development
Website Audit
Website Hosting Services
Website Redesign
Wordpress Expertise
Wordpress Web Development
XHTML