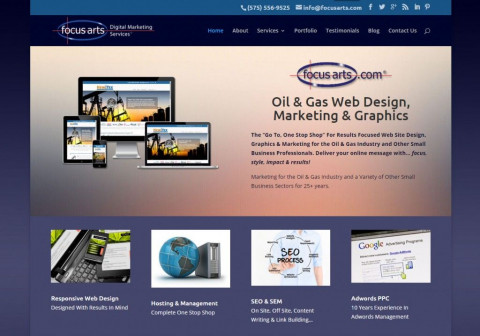 Results Focused Web Site Design/Management, Web Hosting, Marketing Management and Graphic Design for the Small Business Professionals which currently includes Publicly Traded Corporations. Competitive rates available. Deliver your online message with... focus, style, impact and proven results at www.focusarts.com!
Online Industry And Small Business Marketing for 24+ years.
We focus on the development of dynamic web site communication, graphics, services and proven concepts that promote your marketing efforts in communicating to both client and prospect that gets proven results.
See what our clients say about FocusArts at www.focusarts.com/clients
Specialties
Affordable
Analytics
Basic Web Design
Brand-focused Design
Brochure Design
Business Consulting
Cascading Style Sheet (CSS) Design
Content Management Systems (CMS) Expertise
Domain Registration
E-commerce Solutions
Email Provider
Facebook
Full-Service Website Management
Google Adwords Campaign Management
Graphic Design
HTML
HTML 5
Inbound Marketing
Joomla CMS Expertise
Keyword Research
Landing Page Design
Lead Generation
Local Search
Local Search Marketing
Logo Design
Mobile Web Design
Mobile Web Developer
Mobile Website Design
Mobile Websites
Monthly Maintenance
MySQL
Online Marketing Strategy and Implementation
PayPal Shopping Cart Integration
Photography Services
Photoshop
PPC/CPC Campaigns
Professional Illustration
QR Code Integration
Responsive Web Design
Search Engine Marketing (SEM)
Search Engine Optimization (SEO) Consulting
SEO
Site Maintenance
Slideshows
Small Business
Social Media Marketing Strategy & Implementation
User Interface (UX) Design
Video Production (Editing, Streaming) Services
Web 2.0 Development
Web Consulting
Web Content Maintenance
Web Designers
Web Redesign
Website Audit
Website Hosting Services
Website Maintenance
Website Redesign
Wordpress Expertise
WordPress Themes
XHTML