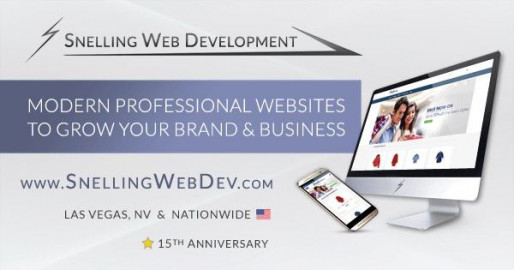 Snelling Web Development specializes in website design & SEO for small business and organizations in Las Vegas, NV & nationwide.
We provide modern & professional responsive website solutions that elevate your brand and grow your business.
We offer Custom Designed Websites, Starter Theme Websites, Ecommerce Store Websites, and WordPress Websites for startups, small business, organizations, and the government sector. We also provide Web Services that improve your website's effectiveness for more traffic, conversions & better results.
In business since 1999, we have the experience to understand your needs and also provide a vast selection of services, including website updating & maintenance, search engine optimization, analytics, social media integration, responsive websites, and a lifetime warranty on all websites that we build.
Snelling Web Development wants to build a relationship with their clients and be their single source for website solutions as their needs grow well into the future.
Please contact us today to discuss your website.
Specialties
Affordable
Analytics
ASP.net
Basic Web Design
Blog Writing & Management
Brand-focused Design
Brochure Design
Business and Postcard Card Design
Business Consulting
Cascading Style Sheet (CSS) Design
Clean Design
Clean Designs
Content Creation
Content Development
Content Management
Content Strategy
Content Writing
Copy Writing
Copyediting
Copywriting
Creative Services
Custom Themes
Digital Marketing
Domain Name Registration
Domain Registration
E-commerce Solutions
Editing
Email Marketing
Facebook
Facebook Fan Pages
Facebook Pages
Free Consultations
Free Lifetime Warranty
Full-Service Website Management
Google Analytics
Graphic Design
HTML
HTML 5
HTML5
Identity & Brand Strategy
Javascript & DHTML
JQuery
Landing Page Design
LinkedIn
Local Search
Local Search Marketing
Local Search Optimization
Localization
Logo Design
Made In The U.S.A.
Maintenance
Mobile Sites
Mobile Web Design
Mobile Web Developer
Mobile Website Design
Mobile Websites
Monthly Maintenance
One Page Website
One-page Websites
PayPal Shopping Cart Integration
Personalized Attention
Photoshop
Project Management
QR Code Integration
Responsive Design
Responsive Web Design
Scrolling Websites
Search Engine Optimization
Search Engine Optimization (SEO) Consulting
Search Engine Optimization. Social Media Management
SEO
Shopping Carts
Site Maintenance
Slideshows
Small Business
Social Media Marketing Strategy & Implementation
Standards Compliance
Templates
Twitter
User Interface (UX) Design
Web 2.0 Development
Web Consulting
Web Content Maintenance
Web Design
Web Designers
Web Development
Web Redesign
Web Site Maintenance
Website Audit
Website Design
Website Hosting Services
Website Maintenance
Website Redesign
Wordpress Expertise
WordPress Themes
XHTML