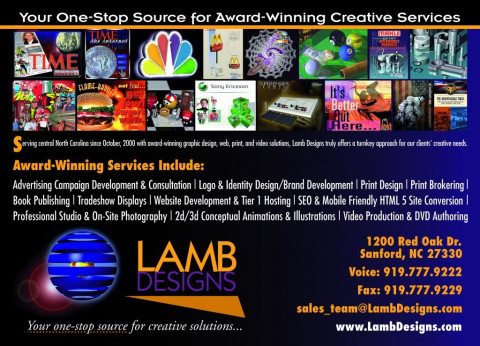 Who we are -
Lamb Designs is an award-winning, full-service advertising agency located in Sanford, North Carolina. Founded in 1995, and having been in business in North Carolina since October 2000, Lamb Designs has serviced the creative needs of a variety of both local and national clients.
Our Mission -
To build memorable brands and to tell our clients' stories through the most effective and efficient methods possible, saving our clients both time and money. We provide a "big-agency" look, without the "big-agency" price. We do this by keeping overhead to a minimum. Lamb Designs partners with other companies that are industry leaders in their own respective fields. This allows us to create customized teams for each project we handle. We are able to offer our customers a tailored fit that most other agencies cannot. We are not restricted to using staff members who may or may not have specific industry experience for the project at hand. We also pride ourselves on our customer service. We strive to make every client feel like they are our most important one. In fact, nearly all of our business has come from customer referrals. We realize that without our clients' support, Lamb Designs wouldn't exist.
What we do -
At Lamb Designs, we have a passion for advertising. Being a full-service agency, we are truly a one-stop solution for our clients' creative needs. Services include: graphic design, print media development, illustration, web site design and tier 1 hosting, interactive cd/dvd development, corporate identity development, ad campaigns, trade show display creation, video/commercial production, copywriting, print brokering, book publishing, media buying/placement, and more.
Clients -
Lamb Designs has been privileged to work with many outstanding clients. Local clients include: US Army Reserve (USARC), Sony Ericsson, UNC Chapel Hill, King Pharmaceuticals, GeoTechnologies, Inc., Vortex Pharma Group, AllShields, Inc., Cart Armor, Inc., AmeriChoice Gifts, Inc., Material Handling Technologies, Inc., Sensors Chemical Corporation, Carolina Trace Country Club, Carolina Trace Gated Properties, LLC, Employee Benefits Alliance, Cary Cart Company, Inc., Hometouch Healthcare, Inc., and many others.
Specialties
3D Modeling & Animation
Affordable
Animation
Banners
Basic Web Design
Book Publishing
Brochure Design
Business and Postcard Card Design
Cascading Style Sheet (CSS) Design
Content Management Systems (CMS) Expertise
Copywriting
Corporate Collateral
Direct Mail
Email Marketing
Facebook
Flash Animation
Flyers
Full-Service Website Management
Graphic Design
HTML 5
HTML5
Identity & Brand Strategy
Interactive Media
iPhone/iPad App Development
Javascript & DHTML
Logo Design
Market Research
Mobile App Development
Mobile Apps
Mobile Web Design
Mobile Website Design
Mobile Websites
MySQL
PayPal Shopping Cart Integration
Photography Services
PHP Development
Posters
Press Release
Print Advertising
Print Design
Professional Illustration
QR Code Integration
Real Estate
Responsive Web Design
Search Engine Marketing (SEM)
Search Engine Optimization (SEO) Consulting
Shopping Carts
Slideshows
Small Business
Social Media Marketing Strategy & Implementation
Sound & Audio Production (Editing, Streaming)
Tradeshow Displays
User Interface (UX) Design
Video Production (Editing, Streaming) Services
Voiceover/Announcing
Web Application Development
Web Redesign
Website Hosting Services
Website Maintenance
Website Redesign
XHTML