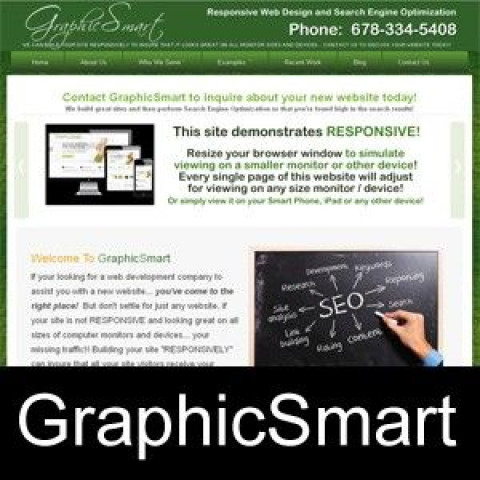 GraphicSmart is a responsive web design and development company that is available to develop your new responsive website.
Responsive? Yes, your website can be developed in a responsive manner which means that it will adapt and look beautiful on all monitor sizes and on all devices like tablets and smart phones! We also provide Search Engine Optimization Services to our customers so that their sites can be found at the top of search result pages!
Contact GraphicSmart at to learn more about how to have your new website developed RESPONSIVELY!
Specialties
Cascading Style Sheet (CSS) Design
Content Management Systems (CMS) Expertise
Database Integration
E-commerce Solutions
Flash Animation
Full-Service Website Management
Google Adwords Campaign Management
Graphic Design
Identity & Brand Strategy
Javascript & DHTML
Joomla CMS Expertise
Logo Design
Merchant Account Integration
Monthly Maintenance
MySQL
Online Marketing Strategy and Implementation
PayPal Shopping Cart Integration
PHP Development
Print Design
Professional Illustration
Search Engine Marketing (SEM)
Search Engine Optimization (SEO) Consulting
Slideshows
Small Business
Social Media Marketing Strategy & Implementation
Templates
User Interface (UX) Design
Web 2.0 Development
Website Hosting Services
Wordpress Expertise
XHTML