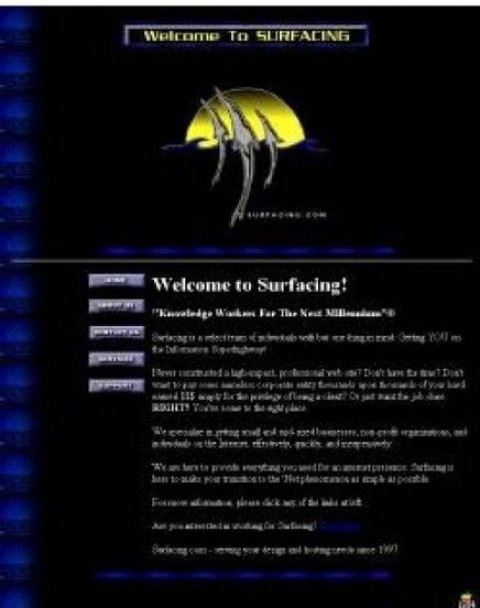 Surfacing.com is a full-service ecommerce, design and hosting resource in the Atlanta area, established in 1997.
We specialize in assisting small businesses with design, hosting, SEO, online advertising, marketing and organic traffic generation. We've been working with Wordpress, blogging and Social Media for business since 2003.
We can't speak for some of the other ads on this page, but we really ARE local!
Our clients have included: Authors, Vacation Resorts, Atlanta Symphony Orchestra Musicians, medical professionals and restaurants, as well as individuals and entrepreneurs of all kinds.
We've designed sites as small as Wordpress Mini-blogs to full-blown e-commerce sites with thousands of items.
If you don't have a website, you could be losing thousands of dollars in potential sales. Contact us today and let us help you achieve your online goals!
Specialties
Blog Writing & Management
Copywriting
E-commerce Solutions
Email Provider
Full-Service Website Management
Google Adwords Campaign Management
Localization
Monthly Maintenance
Online Marketing Strategy and Implementation
Online Training
PayPal Shopping Cart Integration
Podcasts
PPC/CPC Campaigns
Search Engine Optimization (SEO) Consulting
Small Business
Social Media Marketing Strategy & Implementation
Templates
Video Production (Editing, Streaming) Services
Viral Marketing
Website Hosting Services
Wordpress Expertise