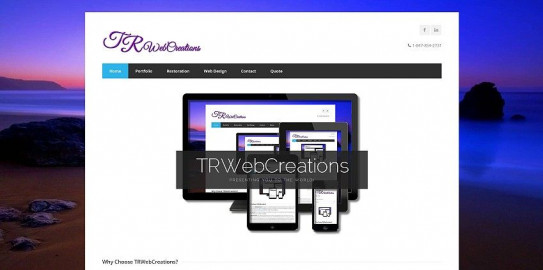 TRWebCreations is your Website Development, Graphic Design, and Photo Restoration Company. Our focus is on assisting in Presenting You to the World on the Web and in real life. We design websites from the ground up with exposure for your Internet presence in mind. In designing websites, we work closely with our clients to develop a creative direction and architecture for the site, refining, and building to meet the objectives of our client's layout for us. We believe that active client participation in the design and feedback process along the way is crucial to creating a site that works for you. The real difference is that we provide you with the personalized, responsive and "extra-mile service" that you will appreciate and remember.
We provide creative designs to help you stand out against your competition and convey your message with professionalism, clarity, and purpose.
Whether you are looking to start a new website design or you are looking to give your old site a makeover, we are here to help you with your needs. Contact us today for a free quote or consultation! We look forward to hearing from you.
Specialties
Banners
Basic Web Design
Blog Writing & Management
Brochure Design
Business and Postcard Card Design
Cascading Style Sheet (CSS) Design
Clean Designs
Domain Registration
E-commerce Solutions
Facebook
Flash Animation
Flyers
Full-Service Website Management
Graphic Design
HTML
HTML 5
HTML5
LinkedIn
Logo Design
Mobile Sites
Mobile Web Design
Mobile Website Design
Mobile Websites
Monthly Maintenance
Online Marketing Strategy and Implementation
PayPal Shopping Cart Integration
Photography Services
Posters
Responsive Web Design
Search Engine Marketing (SEM)
Search Engine Optimization (SEO) Consulting
Site Maintenance
Slideshows
Small Business
Social Media Marketing Strategy & Implementation
Templates
Video Production (Editing, Streaming) Services
Web Design
Web Designers
Web Redesign
Website Hosting Services
Website Maintenance
Website Redesign
Wordpress Expertise
XHTML