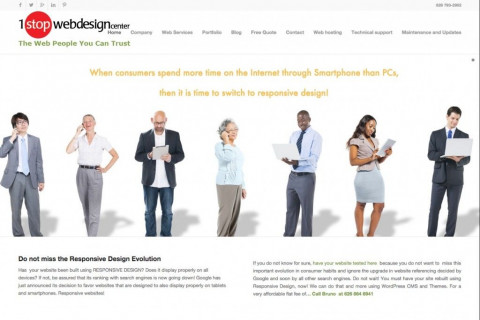 We are an experienced website design team, servicing Pasadena California and the Los Angeles area since 1995. Our company builds websites, provides web services, web design, Flash design & web marketing services. We specialized in WordPress based RESPONSIVE website construction and will deliver most new WP websites within a week time including the integration of your content, if available.
We also provide fast & reliable website maintenance and updating services as well as web hosting, online marketing consulting, Google PPC campaign management and Search Engine Optimization & Social Media management.
We cater to the needs of Small & Medium size businesses and provide the latest in Responsive design, thanks to WordPress efficient and cost saving development tools.
Specialties
Cascading Style Sheet (CSS) Design
Content Management Systems (CMS) Expertise
Copywriting
E-commerce Solutions
Full-Service Website Management
Google Adwords Campaign Management
Graphic Design
Logo Design
Monthly Maintenance
Online Marketing Strategy and Implementation
PayPal Shopping Cart Integration
PPC/CPC Campaigns
Search Engine Optimization (SEO) Consulting
Social Media Marketing Strategy & Implementation
Website Hosting Services
Website Maintenance
Website Redesign
Wordpress Expertise