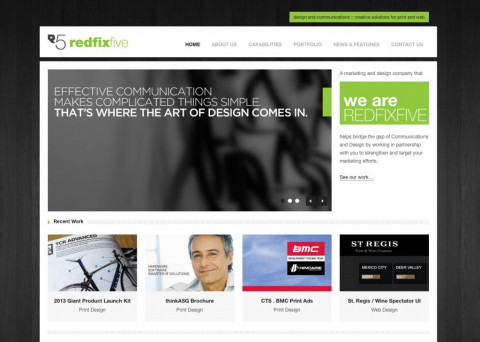 HELLO. WE'RE REDFIXFIVE, A BOUTIQUE CREATIVE STUDIO LOCATED IN ORANGE COUNTY, CA.
Redfixfive was founded in 2000 with the idea of connecting art to design and design to art… to convey a marketing message. Our team of creatives make this connection for you.
We help bridge the gap of communications and design by working in partnership with you to strengthen and target your marketing efforts.
Redfixfive will research your market and your competition—what makes them tick, what inspires their choices. We study your brand and develop creative ways to strengthen and re-energize it. We consider your timing and your budget, and work closely with you to get the most for your investment.
We learn everything we need to know about your business, and present solutions that are unique and effective in your specific industry. We implement programs that have proven successful and go beyond your expectations.
Specialties
Actionscript
AJAX
Banners
Basic Web Design
Brand-focused Design
Brochure Design
Business and Postcard Card Design
Cascading Style Sheet (CSS) Design
Clean Design
Clean Designs
Content Management Systems (CMS) Expertise
Copy Writing
Copywriting
Corporate Collateral
Development
Direct Mail
Domain Registration
E-commerce Solutions
Email Marketing
Flash Animation
Flyers
Full-Service Website Management
Graphic Design
HTML
HTML 5
HTML5
Identity & Brand Strategy
Interactive Media
Java/J2EE Development
Javascript & DHTML
JQuery
Logo Design
Monthly Maintenance
Motion Graphics
MySQL
Online Marketing Strategy and Implementation
PayPal Shopping Cart Integration
Photography Services
Photoshop
PHP Development
Posters
Print Advertising
Print Design
Printing
Professional Illustration
Project Management
Responsive Web Design
Site Maintenance
Small Business
Social Media Marketing Strategy & Implementation
Sound & Audio Production (Editing, Streaming)
Templates
User Interface (UX) Design
Video Production (Editing, Streaming) Services
Voiceover/Announcing
Web Content Maintenance
Web Redesign
Website Audit
Website Maintenance
Website Redesign
Wordpress Expertise
XHTML